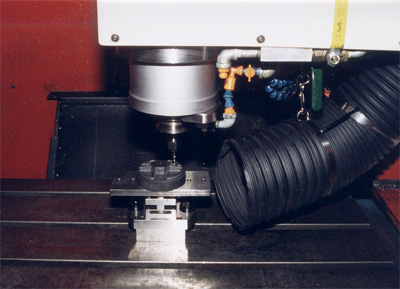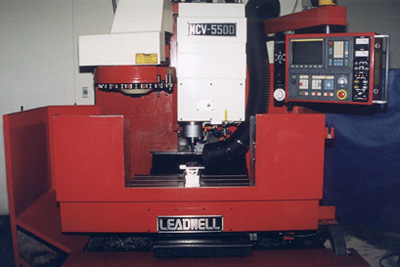 Box way machine, machine weight: 8,800 lb.

Travel: X = 21.65" Y = 16.10" Z = 21.85" Max table load: 1,100 lb. Table work area: 16 x 33.5"

Door opening: 31" (64" long parts fit inside the removable shields)

Feedrates: Rapid 400 ipm Cutting 200 ipm

Spindle: 4,000 rpm spindle, cartridge type. 10 hp (30 minutes) / 7.5 hp (continuous). BT-40 taper Spindle oil cooler.

Tool changer: 16 tools.

FANUC OMA control, with memory upgraded to 48K (120 meters). Tulip Electronics memory upgrade chips installed ($556) RS-232 port, baud rate 9600 Can be run DNC for large programs.

Comes with a 1 year Fanuc Renewal Service Contract ($1,200/yr) which covers:

Labor & Travel expenses related to service work performed on control.
Printed Circuit boards (excluding motors and consumable parts)
Freight charges for shipment of parts and the return of defective parts.
Repair of printed circuit boards at no charge.
Technical advice & trouble-shooting counseling available by phone.
Call Fanuc America at 847-898-5030 to verify the details
Includes coolant tramp oil skimmer unit.

New spindle bearings were installed by dealer on 03/06/00.

Machine ball-bar and linear laser calibrated on 01/22/01.

Mastercam post processor furnished.

Original machine manuals.

Step by step setup and operating procedure document written by us. This document tells you every step from how to turn the machine on through how to set it up and run programs.
Leadwell Tooling available: